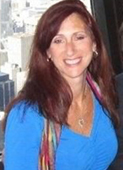 Morrisa is the Co-Director of the Mars & Venus Counseling Center in Bergen County and Northern New Jersey is personally trained, licensed, and appointed by Dr. John Gray (best-selling relationship author of all-time with 16 widely-acclaimed books). Morrisa has been in private practice as a counselor/psychotherapist for over 30 years. Prior to that, she has held numerous staff positions at a Bergen County Community Mental Health Center and at a New York City home healthcare company.
Morrisa has focused her work with individuals experiencing depression, anxiety, grief and bereavement. She is a well-known lecturer, consultant, and supervisor in this field. She has lead several workshops in the area public schools for staff on issues surrounding divorce, terminally ill loved ones, and death.
As a grief and bereavement therapist, Morrisa has an eclectic style of working with her clients. She evaluates the individual and family situation and directs her method of treatment as needed. She believes that people should not be left to grieve alone and in silence. Her work deals with the most commonly felt reactions: shock, anger, denial, guilt, depression, and eventually acceptance and growth.
Morrisa is an expert in the field of children, adolescence, and family counseling. She has contributed her expertise on children and adolescent issues to Bergen County Kids Magazine as a staff writer.
Morrisa lives with her husband, Richard Drobnick, LCSW, DCSW, in Bergen County. They have two grown daughters, Silver and Selena.
Credentials
B.A., Sociology and Public Health, William Paterson University
M.S.W., Clinical, New York University
Co-Founder of Search for Self Inc. Counseling Center
Mars & Venus Licensed Counselor
Co-Director of Mars & Venus Counseling Center, Teaneck, NJ
Graduate, Postgraduate Certification from Gestalt Associates for Psychotherapy in New York City
Certified trainer for Systematic Training for Effective Parenting
Graduate of Grief Recovery Certification Program for Children and Adults
Graduate of American Academy of Bereavement Certificate Program
Certified School Social Worker
Staff writer for Bergen County Kids Magazine, children and adolescent issues
New York State Licensed Clinical Social Worker
New Jersey State Licensed Clinical Social Worker
Workshop Lecturer on grief, bereavement, dramatic loss, and divorce in numerous Bergen County School Districts
Continuing Education for more than 30 years